Memory Forest was released on 16th December 2019 from Hedgehog Poetry Press.
Please visit the bookstore if you would like to buy it along with my full collection Venus in Pink Marble.
Or buy it on its own here: 
Memory Forest is a poetry chapbook with a theme that celebrates life, and the lives of the dead, in poems that vary in tone and form. Poems which delve into burial rites across the world and stories of last wishes inspired by people closer to home. Often the work in this collection merges faraway cultures and funereal practises with local traditions and others immortalise the last wishes and instructions of the poetic voices they inhabit. I was initially inspired by my family and their thoughts on how they would like their lives celebrated and I hope that these poems stimulate conversations between readers and their loved ones too.
I'm delighted to feature the work of two artists whom I admire. The front cover, an oil painting entitled November Light, is by Bonnie Helen Hawkins. I first came across Bonnie's work when she included my poem Keening (a poem included in this chapbook) in her 52 Crows Project. The pencil drawing which so beautifully illustrates my poem will be included as a centre-spread. Also featured, is local artist Tommy McMahon. I first met Tommy (a few decades ago) when he was concentrating on his career as a musician, in the band Four Idle Hands, under the Good Vibrations record label.
Are you wondering what other people have thought of the book? If so, here are some endorsements:
"From exploring our fragile temporality, to finding celebration, Memory Forest never strays too far from the ultimate certainty: death. Kane's stance is one of assurance, always believing that rebirth is possible, whether through a shift in perception, or the mining of memories. Direct and defiant, these poems mix grim pathos and good humour to find a mood beyond bereavement, where there may be suffering, yet it still feels good to be alive." – Colin Dardis, editor of FourXFour Journal & Pen Points Press, co-host of Purely Poetry and author of the x of y (Eyewear, 2018) & The Dogs of Humanity (Fly on the Wall Press, 2019).
"As a collection focussed on a single theme, the poems in Memory Forest tackle their subject with admirable authority and diversity, comprehensively and with varied shifts of voice, subject, perspective. Overall, this makes for an engaging and satisfying reading experience, that chimes with readers' universal experiences but often in interesting and original ways." – Mary Montague, mentor, creative writing facilitator and author of Black Wolf on a White Plain (Summer Palace Press, 2001) & Tribe (Dedalus Press, 2008)
"When Gaynor Kane orders 'Build me a Viking longship', looking fearlessly into the eyes of death, I cower and obey. In this tightly themed collection, Kane beautifully weaves funereal traditions from varying cultures, forcing the reader to come to terms with their own death – a future not so terrifying as we once thought. Funerals are for the living and so is this book, for us all." – Isabelle Kenyon, editor of Fly on the Wall Press and author of Digging Holes To Another Continent (Clare Songbirds Publishing House).
"There is a distinctive voice in Kane's collection, with strong use of engaging humour and a clear preoccupation with the business of dying and how to deal with the "f" word (funeral) throughout this pamphlet which will have a broad appeal for many readers" – Sue Burge, creative writing facilitator, mentor and author of Lumière (Hedgehog Press, 2018),& In the Kingdom of Shadows (Live Canon, 2018).
I launched the collection in Belfast on 15th December, at EastSide Visitor Centre, and in Bangor on 11th January 2020, at Bangor Carnegie Library. At the Belfast launch Karen Mooney introduced me and conducted an informal discussion with me about my writing career to date. At the Bangor launch Mary Montague introduced me after giving a speech analysing the collection and grounding it in the poetic traditions it follows and you may read it here.
Here are some photos from the Bangor launch, with thanks to Jessica Arbuckle: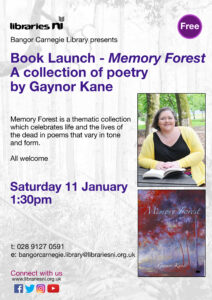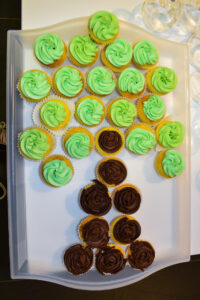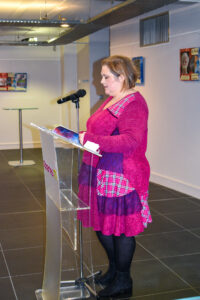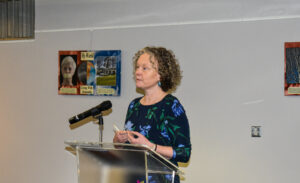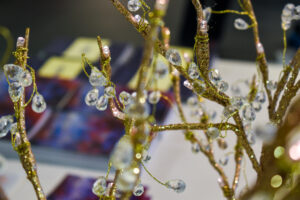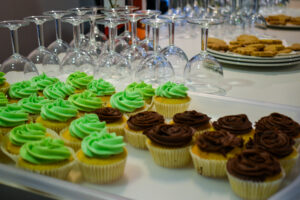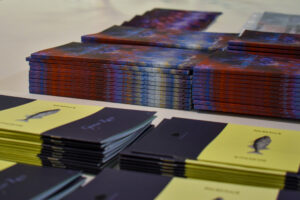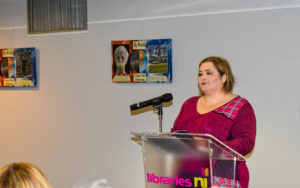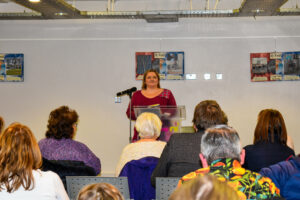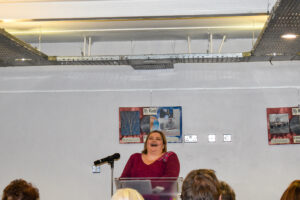 And some photos from the launch at EastSide Visitor Centre