Released on 30th July 2022, from the Hedgehog Poetry Press, Eight Types of Love is a small collection of 16 contemporary love poems.
If you are in the UK you can use this link to order.
If you are outside of the UK, due to postage costs, I would recommend ordering the eBook which I will email as a PDF direct to your inbox.  You can order here.
If money is no object you can order using these links – for Europe and everywhere else.  Thank you in advance!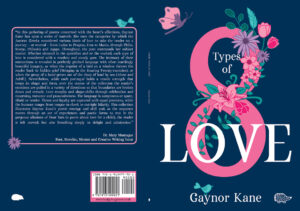 Jessica Arbuckle designed the fabulous cover. I just love it!
You can find her on Facebook, Instagram and this is her Etsy store. I am really delighted with the design and Jessica was very patient while we went back and forth tweaking things. I'd highly recommend her and she is available for commissions. This link will take you to some other cover options.
So, what are the contents about?  This, hopefully, explains what is happening inside the covers:
Eight Types of Love, by Gaynor Kane, is a contemporary exploration, through poetry, of the eight categories of love as classified by the ancient Greeks: Ludos, Eros, Mania, Philia, Philautia, Pragma, Storge and Agape.
Love is multifaceted and relationships can be complex, even complicated sometimes.
These poems, some fictional, others autobiographical, illustrate each type of love and the connections between them, taking the reader on a narrative journey through the Eight Types of Love.
A few of the poems have already been published and are available here:
'On Mothering Sunday' is on the Black Nore Review
and I read 'Stalker' at Flash Fiction Armagh.
I had a big launch party at Bangor Carnegie Library with wonderful guest poets: Mary Montague, Karen Mooney and Damien B Donnelly.  Here is a selection of photos from the day.